---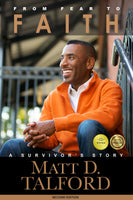 BACK IN STOCK!

This second edition of the multiple-award-winning book will strap you into the front seat with the author and take you for a ride in a story so vivid, you may feel like you were there to witness it!  "From Fear to Faith: A Survivor's Story" is a story of love, hope and determination.  

Throughout the pages of this provocative and heartwarming drama (also voted Best New Non-fiction at the 2017 Book Excellence Awards), Talford illustrates—through multiple examples—how an "I can, I will" mindset, and a refusal to settle for less than exactly what you want, can help you to emerge victorious, no matter what the circumstance!  
Synopsis:
In 2010, at the age of 37, he began feeling a "constant ticking" inside his body, completely unaware that what he was feeling was a virtual "time bomb" that could explode at any moment.  Seven months later when diagnosed with a rare and malignant form of "The C Word," he quietly reassured himself that time was his ally, while constantly battling against the growing tide of voices whispering, "Don't wait; it might be too late!"
Written in a style that had one reader say, "I thought I was reading a novel," From Fear to Faith is not the typical memoir.  When asked to describe the story, the author calls it, "A saga that I hope will inspire everyone who reads it to take charge of their situation, and understand that fear in the negative produces negative outcomes, while faith in the positive brings about positive outcomes.  Every individual has the power to create their own realities; they just have to believe in them!"
PRODUCT DESCRIPTION
Paperback; 303 pages
AVAILABILITY

SHIPPING
Items in-stock will be shipped out of our warehouse within 48 hours. You will receive tracking so you can check when your copy will arrive at its destination!