---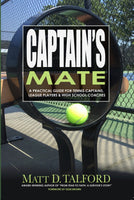 Captain's Mate is a book that is destined to be one of the top tennis instructional manuals ever sold!  No other book currently available prepares the USTA (United States Tennis Association) league player, captain or high school tennis coach for organized tennis quite like it!  If you've ever looked for structured guidance on how to prepare a team (or yourself) for the mental rigors of competitive tennis, look no further. Tennis pros teach you how to play the game; "Captain's Mate" will teach you how to be a leader—both on the court and off!
PRODUCT DESCRIPTION
Paperback; 128 pages
AVAILABILITY
In stock
SHIPPING
Your item will be shipped out of our warehouse within 48 hours. You will receive tracking so you can check when your copy will arrive at its destination!